Amali Music Is Fun Instructors:
Yvonne Paul James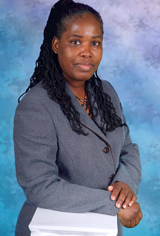 The Amali Music Is Fun Program was formally created by Yvonne Paul James in 1988.
Because of her patience, dedication and commitment to make music simple and enjoyable, students were encouraged and enabled to take their craft beyond her classroom by enrolling in various academic and community music programs, such as playing for community churches, school bands, directing choirs and music groups and giving performances.
Her musical training includes, The Royal School of Music (UK) Certifications.
Growing up in the tiny village of Marli, on the island of Grenada, Yvonne always had a passion for the arts. The daughter of a father who was a village farmer and a mother who was a homemaker, she was exposed to self reliant activities at a very early age. Without her being aware of it at the time, her parentís actions provided the channel that continues to shape her destiny.
Because of her love for the arts she became involved in community activities as a teenager. Even as a teenager, she saw the benefits and rewards of music and so used music as a platform to share new concepts and to transmit necessary values to those she privileged to work with over the years.
While still in high school, Yvonne began her career in music by teaching her peers to read music and to play the piano. During her final year in high school, she was approached and encouraged to take the post as an elementary school teacher.
After working in a public elementary for six years her desire to lead and to create new learning concepts prompted her to establish her own private school, where music was the center of all learning activities. Because of her desire to share her knowledge and the music skills she developed through music in education, she was asked by the Division of Culture of the Grenada Government to accept the position as a Cultural Officer, a position that enabled her to work with music teachers and community groups around the island.